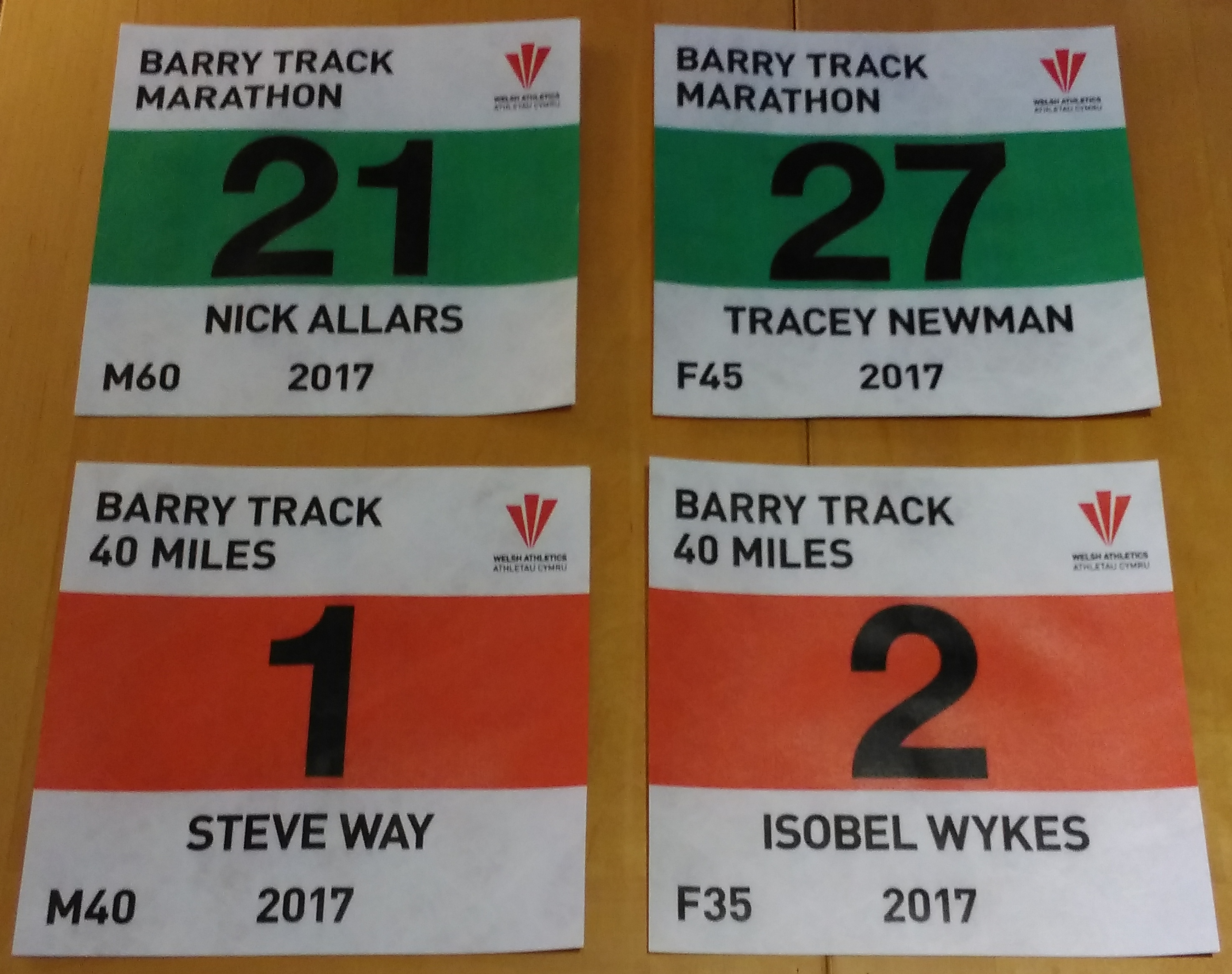 The 37th Annual Barry 40 mile Track Race (incorporating the 34th Welsh Ultra Distance Championships) will be held at Jenner Park Stadium, Barry on Sunday 5th March 2023.
This year we will again be hosting a marathon alongside the 40 mile race.
Please make it clear on your entry which race you are entering.
The start time will be 10.00am and the race entry fee will be £40.
We have been overwhelmed by the support for the event over the years and have had to set a limit of 40 runners due to the realistic number of lap scorers we can provide to ensure an accurate result for each runner. In order to try and accommodate all potential runners we have asked that if possible runners can nominate their own personal lap scorer. If you are unable to do this please enter anyway and we will do our best to accommodate you. PLEASE TRY TO ARRANGE A LAP SCORER AND DOCUMENT ON THE ENTRY FORM IF POSSIBLE – DON'T LEAVE THIS UNTIL THE LAST MINUTE. We would strongly encourage athletes to bring a scorer they already know and trust - planning a strategy with your scorer should be part of the preparation for race day. If after entering either you or your lap scorer are unable to come, please let us know ASAP - if you are able to provide a replacement scorer this can be amended on the day of the race.
A six hour time limit will be enforced - this is intended as an indication of when we expect the track to be vacated as courtesy to those volunteers and officials who will already have given over six hours of their time in what can be inclement weather.
We look forward to hearing from you and irrespective of whether you run or not, we would like to wish you a successful 2023.
For enquiries and more details please contact Mick McGeoch
For results and pictures of previous races please go to http://www.lescroupiersrunningclub.org.uk/the-barry-40/
Organised by :
Supported by :
History of the Barry 40 Miles Track Race
When did it start? Why 40 Miles?
Les Croupiers Running Club were formed in May 1980, and one of the many reasons for its success was that it all happened months before the first London Marathon in March 1981. London provoked massive interest in marathon running and many of the members of the new club were very much influenced by this.
The club became a strong endurance force very rapidly on both an individual and team front. Some notable personal best times were achieved, but after a time for some of the more ambitious runners, ultra distance became an attraction, and Sandy Johnston, Howard Brown and Mick McGeoch decided to enter Britain's most famous ultra, London to Brighton (53 miles 540 yards) in 1985. In the event, Sandy Johnston and Howard Brown acquitted themselves well, placing 14th and 16th, whilst for McGeoch, potentially the fastest of the three, there was disappointment as he withdrew after 32 miles with dehydration.
McGeoch's rationale was that the leap from 26 to 53 miles was too ambitious, and that an intermediate distance might be more feasible and more inviting to other ultra aspirants. There weren't, however, too many such events on the calendar, so he decided to set up his own.
During the 1960s there had been a number of 40 mile track races held on the cinder track at Maindy Stadium, Cardiff. Indeed, two world best performances had been set, 4:03:28 by John Tarrant in 1966 and 3:58:53.2 by Lynn Hughes a year later, thereby becoming the first man to break 4 hours for the distance. These events were organised by Bernard Bardwin in conjunction with the Road Runners Club. Bernard is more famous for creating the Nos Galan road races in Mountain Ash in 1958 – a cult race which became a huge "people's event" long before mass participation was prevalent in the UK. He was in many ways a man ahead of his time. Like McGeoch, Bernard Baldwin was Barry-born, so a 40 mile track race at Jenner Park in Barry fitted the bill perfectly. A lot of local interest was created, and a local hotelier, Wyn Pryse-Jones, kindly agreed to accommodate the travelling runners and officials in his hotel, the Mount Sorrel in Barry, free of change.
This helped enormously. Two of the visiting officials were Don Turner and Andy Milroy, and their advice and guidance was an immeasurable help in making that first race such a success. In addition, one of the local late entries, Ann Franklin from Mynyddwr de Cymru (herself a 3 time winner of London to Brighton), stole the show and set four outright ladies world best performances at 25 miles, 30 miles, 50 kilometres and 40 miles. Her finishing time of 4:47:27 puts her 8th on the current world all-time list.
This re-birth of 40 mile track running in Wales showed that the record-breaking feats of the athletes in the 1960's could not only be maintained, but surpassed. 30 years on, a total of 61 world best performances have been set, and three Barry 40 mile champions have gone on to win global 100 km titles (Carolyn Hunter-Rowe 1993, Simon Pride 1999 and Lizzy Hawker 2008). From 1986-2014 the Barry 40 miles has continued to inspire and frustrate in equal measure. The weather, for example, can never be taken for granted, but if you want to succeed at Barry, never underestimate the importance of personal preparation. In the past 29 races, 74% of the starters have completed the 40 miles, an amazing testament to both preparation and determination. Will you be amongst them this year?
Results for each of the races held in Cardiff between 1965 and 1972, and the Barry events from 1986 to 2016 can be seen here.