Summer Series + Bannister Anniversary Miles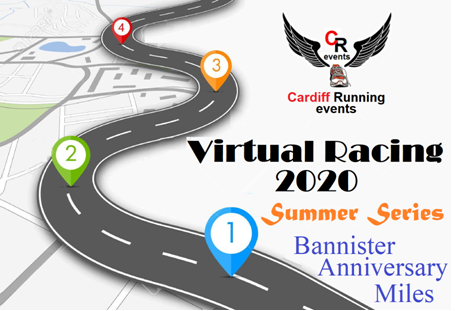 **** BREAKING NEWS ****
Following on from the success and popularity of our Virtual Bannister Miles and Summer Series races over the last couple of months we've decided to extend the range of events we offer in the hope of helping to keep you motivated while we await the news of actual events returning.
Entries are FREE...
All competitors welcome
Having done our traditional Summer Series events (1-4 miles), we've decided to go metric and try and keep things short and sharp  , so we are starting off with the Summer Challenge which will be based on 1Km, 2Km, 3Km and 4Km, this will be followed by the Longer Challenge where we will increase the distances – some common or classic others that are more continental.
We have had to introduce some new Rules, so please take these onboard:
The course start/finish area must be in close proximity to each other - ideally out & back or loop (if it doesn't complete the loop that is OK, eg 2k to 3k on the Cardiff parkrun course). Start and finish to be at the same height or as close as possible. Any course not adhering to this will get a 2+ minute penalty depending on race length.
The link that is loaded must be visible for checking - we do not want to have to follow all the runners on Strava or Garmin in order to access the runs, if we can't see the evidence the performance will be removed.
You will have a 4 day window in which to complete your run and load it onto Open Track. This window will open at 00:01 on the Thursday and close at 23:59 on the Sunday. Anything outside this window cannot be added to Open Track and will not be added to our results site.
Each individual runner must upload their Strava/Garmin performance on Open Track before 23:59 on the Sunday.
After the event RESULTS and Series Results will be posted here https://sites.google.com/view/crevirtual2020/home
Keep an eye out for the event pages on Facebook and Open Track.
As the current situation with the Coronavirus continues we hope you are all safe, well and managing to get out to run.
Although we have decided not to put on the Summer Series and Bannister Anniversary Miles as actual events this year they will return in 2021, we thought we would try and keep everyone involved by running the Events as Virtual Races.
They will be run as Virtual Racing 2020. We will set up Event pages on our Facebook page, all you need to do is:
Then we'll publish the results the following day, these can be found
here
Race Rules:
1. The run must be done on the date stated for the "event", it can be done at anytime to suit you.
2. You must follow the rules of Social Distancing.
3. Your run will start with a standing start and will be run over the distance stated.
4. The course must not be downhill - let's give everyone a fair shot!!
5. You must enter via OpenTrack and post your results on there as well.

Race Dates:
Bannister Anniversary Miles - Wednesday 6th May 2020
Summer Series 1 mile - Friday 15th May 2020
Summer Series 2 mile - Friday 29th May 2020
Summer Series 3 mile - Friday 12th June 2020
Summer Series 4 mile - Friday 26th June 2020