Bannister Anniversary Mile's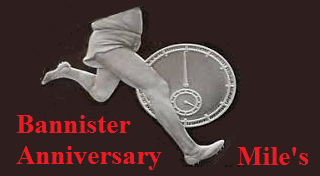 3 mins 59.4 secs
6th May 1954
Friday 10th May 2019
We have been running this event since 2014 as an in-house event for Les Croupiers RC, but we have decided to open it up in 2018.
It seems more significant now that we had decided to open this event up in 2018, following the death of Sir Roger Bannister on 3rd March 2018, this will now be a double celebration – not only marking the barrier he broke but also the man himself.
The event will be a series of small races which will be seeded after the closing date.
COURSE
This starts and finishes by Blackweir Changing rooms. You run from the changing rooms, complete the parkrun nursery loop IN REVERSE and run back to the changing rooms.
Link for 1 mile course http://www.gmap-pedometer.com/?r=5027713